What is biodiesel?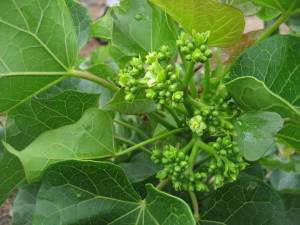 Flowering biodiesel plant
The term biodiesel refers to vegetable oil, either from plants such as rape seed or corn, referred to as "Straight Vegetable Oil" (SVO), or used cooking oil from places such as fast food restaurants, referred to as "Waste Vegetable Oil" (WVO). Biodiesel can be used as fuel for a diesel engine, either as a direct replacement or as an addition to normal diesel. As well as providing cleaner emissions than standard diesel, biodiesel can also work to clear any residue left in the fuel system, increasing efficiency. It is widely stated that biodiesel is a greener fuel than normal diesel as it does not require the same amount of effort to extract. Many environmental groups disagree, as the growing popularity of biodiesels has led to more demand for crops that produce the fuel, resulting in deforestations across the planet's rainforests as companies search for space.
Because you can use waste vegetable oil as a biodiesel, it is often seen as being a cheaper alternative to diesel. Sourcing the fuel yourself may save money, but unless it is properly treated, you could be causing unseen damage to your car.
Wikipedia definition:"Biodiesel refers to a vegetable oil – or animal fat-based diesel fuel consisting of long-chain alkyl (methyl, ethyl, or propyl) esters. Biodiesel is typically made by chemically reacting lipids (e.g., vegetable oil, animal fat (tallow)) with an alcohol producing fatty acid esters."