Creditplus launch Car Finance Options tool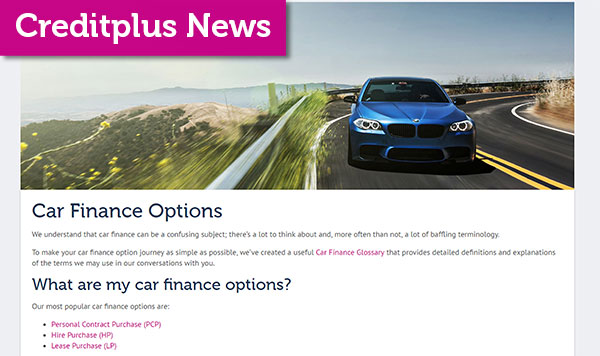 Creditplus are pleased to announce the launch of a new tool to help consumers get a better idea of what car finance options suits their needs. Developed in house, the new tool takes under 30 seconds to complete and acts as a handy introduction to the potentially confusing subject of car finance.
Internal research carried out by the Creditplus digital marketing team revealed that a considerable percentage of customers arriving at the Creditplus website were unfamiliar with car finance. When you break this down into the three main products – Personal Contract Purchase, Hire Purchase and Lease Purchase, the potential for confusion grows.
The question was, how do we help demystify the car finance process? The creation of the car finance options tool was the answer. By asking a series of simple questions, we can match our customers with a suitable car finance option based on the information they provide. This acts as an excellent jumping off point for our customers, as they now know more about the different finance options and have more direction to their car finance journey.
The car finance options tool is the first in a number of planned initiatives designed to help customers learn more about car finance before they apply. Our ethical lending policy has long put empowering customers with the information and knowledge they need to make the right decision concerning their car finance application. This has led to us developing an online car finance calculator tool, a credit check guide, credit clinic, and loan affordability calculator.
This longstanding policy has recently been vindicated by changes made by the FCA to ensure customers are treated fairly. These changes were welcomed by the team here at Creditplus, who saw it as vindication for the hard work we put in to ensuring our customers are always treated fairly, provided with accurate information, and not pressurised into accepting signing any deal.