Multi-Calculator
Creditplus Car Finance: Multi-Calculator
One of our key values is to constantly innovate, lead the market and to develop tools which help our customers make informed decisions. To allow customers to compare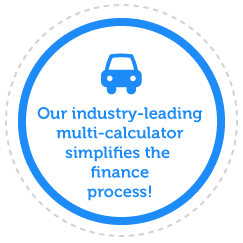 the cars they could obtain with their monthly budget, we've developed our bespoke Multi-Calculator.
The Multi-Calculator allows you to compare the monthly payments of various cars and see the details of each one side by side. It also allows you to determine how the monthly payments would differ dependent on credit scores.
We developed the Multi-Calculator to make the process of obtaining a car on finance with us as transparent and simple as possible. This tool allows the customer to gauge a good estimate of the amount they can expect to pay and to compare options before applying for car finance.
Using the Multi-Calculator is simple; just use the 'Refine Your Search' option to select a car that you have in mind and to filter the search items by options, such as year or mileage. If you'e not sure what kind of car you'd like, you can see what cars you can obtain for your budget by setting a price on the sliders.  
Shaun Armstrong, Managing Director, comments: "Creditplus wanted to simply and effectively help consumers understand their lending options through a variety of funding products, such as Hire Purchase, Lease Purchase and Personal Contract Purchase in a way that was specific to each vehicle choice. We achieved this by creating our Multi-Calculator."
If you find any cars that you're interested in, please don't hesitate to apply for your finance deal and one of our experienced Customer Advisors will be in touch.