Car finance from Creditplus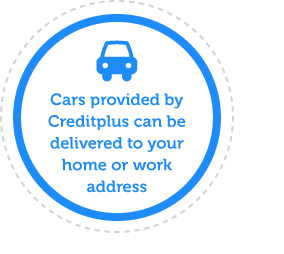 Choosing finance to buy a new or used car is becoming increasingly popular; it offers highly competitive APR rates and it's often easier to have a finance agreement accepted in comparison to a personal loan. With car finance you have a whole range of options to choose from, including Hire Purchase, Personal Contract Purchase and leasing options.
If you're unsure about which finance product would best suit your needs, contact us or visit our interactive Car Finance Options tool, to give you an indication on which product would best suit you.
How does Creditplus work?
At Creditplus we specialise in providing finance to customers from all financial backgrounds. We have more than 10 years' experience in sourcing loans that allow customers to buy the car they want at a competitive and attractive price. Buying a car on finance through Creditplus is a quick and easy process; applications take just a few minutes to complete and, unlike other finance providers, we provide you with an instant online decision. (Representative APR of 9.9%).
A key benefit of applying with Creditplus is that we compare car finance deals from across the whole market. To do this, we have developed a unique process that allows us to match you to the most suitable lender depending on the information you've provided in your application and the information on your credit profile. This not only follows our ethical approach to lending, but it also means we'll get your application approved quickly and accurately. By getting you the best possible APR rate, this will mean you'll have lower monthly payments.
If you've already chosen your car from a dealership, our Advisors can talk you through your finance agreement, as we can finance a car that you've found outside of our network. Alternatively, if you're unsure of the exact car you want, you can take advantage of our Find, Fund & Deliver service.
Getting car finance with Creditplus couldn't be easier. Our team of experienced Advisors are ready and waiting to help you get the finance you find for the car you want.