About our Customer Service
We are committed to delivering excellent customer service at all times and our aim is to exceed our customer's expectations and provide a service that's second to none.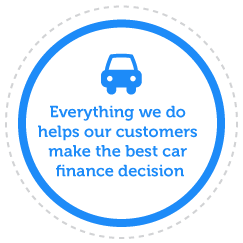 Customer service is the driving force behind our brand and we strive to ensure that our customer's experience with us is trouble-free and enjoyable.
One of the key points in this is transparency. We keep our customers fully informed throughout their car finance buying process by assigning each customer with their own expert Customer Advisor. They are on hand to answer any questions that may arise, as well as tailoring a finance buying journey to the customer's individual circumstances.  
Because we're part of the financial services industry, we recognise that our customers rely on us to look after their well-being and assist them in making the best decision for their individual circumstances. We're heavily regulated by several trade bodies and associations within the financial services industry, so it's imperative that we provide our customers with honest and fair financial advice.
We're governed by the Financial Conduct Authority (FCA), and we ensure that we abide by the regulations set out by them in the day-to-day running of the business. We also ensure we apply these regulations to all of our practises in order to always do the very best by our customers.
We also abide to the Consumer Credit Directive Regulation which means that the customer has the right to cancel their car loan within 14 days of the loan notification commencement. This was put in place to protect the customer's rights at all times.