Soft Credit Searches
At Creditplus, we believe that applying for car finance should not negatively affect your credit rating. We make ethics our key priority and that's why we use a soft credit search that enables us to view the information on our customers' credit file without leaving a footprint. Only after we're confident that the customer will be accepted by one of our lenders will one of our Advisors be in touch to discuss the next steps.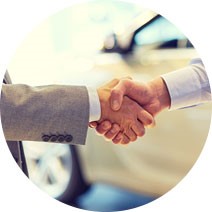 Treating Customers Fairly
We firmly believe that treating customers fairly should be the foundation of any ethical business. To ensure this is always the case for our customers, we are regulated by the Financial Conduct Authority (FCA), which regulates the financial services industry in the UK. We also provide a 14-Day Customer Promise to those who opt for our complete car buying service. This means that you are entitled to a 14-day return policy if there are any faults with your car that are not fixed in due time, or if it's not sold to you as described.
Dedicated Customer Advisor
Whether you choose our complete car buying service or are just looking for car finance, you'll be allocated a dedicated Customer Advisor who will be with you every step of the way, from the initial application to the delivery or collection of your new vehicle. Using our complete car buying service means you have access to Advisors that are experts in their field and use a variety of reputable sources for new and used vehicles. They'll be on hand to answer any of your questions, deal with any issues you might have and take you through the application process in the most transparent way.
General Data Protection Regulation
The General Data Protection Regulation controls how your personal information is used by organisations, businesses or the government and is at the heart of any ethical business. At Creditplus we adhere strictly to the regulations set out by the law to protect your personal information and ensure that we do not share any of your information with third parties. We keep your information safe and secure and we don't keep it for any longer than necessary, as explained in our Privacy Policy. We aim to be a company that you can fully trust, not only to find you the best deal, but also in protecting your information.