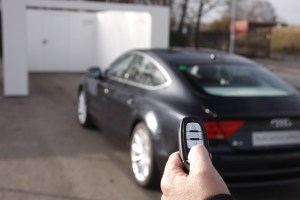 Audi has also joined tech firm Google in being allowed by the authorities in the US state of Nevada to use driverless cars on public roads. Someone still has to be sat behind the wheel for emergency purposes but they're not 'driving'. Volvo has supported a 'road train' project where your car follows the one in front, all snaking along behind a lead vehicle. Watch a movie, read a book? No problem.
The advantages of 'driverless' technology are many; fewer crashes, increased lane capacity, reduced congestion, lower peak zone parking requirements and personal transport for the visually impaired are the obvious ones. But the safety implications of hardware failures, software glitches, user error and even sabotage are life-threatening. Accidents will be global front page news.
We're already starting to see the first fruits on production cars. Adaptive Cruise Control – where your car slows or speeds up in response to the one in front – is already commonplace. Ditto with Park Assist.