Will a car seat fit in securely?
When driving with a baby, you must use a car seat. Not only is it a legal requirement, its also the safest way to transport your child when driving. The government carefully regulate car seats, only ones with an "E" label are EU approved for use in the UK. The question is, does your car have the right fixtures and fittings to make clipping in a car seat an easy process? It is important you take a look at your car before you buy a car seat. A high quality safe child seat is not cheap, so you will have to do your research before making a purchase. Cars with ISOFIX car seat attachments are highly recommended, and are part of the consideration taken by Euro NCAP when awarding a safety rating to a car. If you do decide to replace your car, you may want to consider buying a car that has ISOFIX attachment points.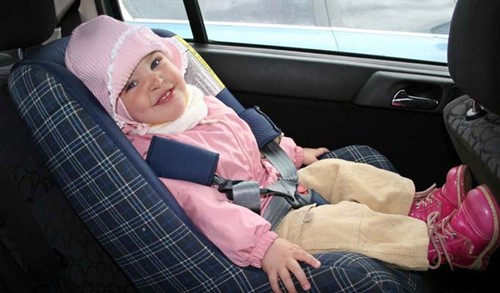 Happy and safely secure.
Important tip: Remember to disable the airbag in the front passenger seat before you put the child seat in the car.
You will also want to consider how easy it is to fix and unfix the seat into the car. When you have a baby, you don't want to be struggling each time you have to use the car. Looking after a baby is hard enough, without having to battle with putting your car seat into the car.
Important tip:We recommend that you leave your baby in a rear-facing child car seat until they are least 15 months old, or the first of these events occurs:
1. They reach the weight limit of that seat (13kg for Group 0+, 18kg for Group 1).
2. The crown of their head is level with the top of the car seat.
This will maximise the child's protection in the car seat for as long as possible.