Mazda CX-5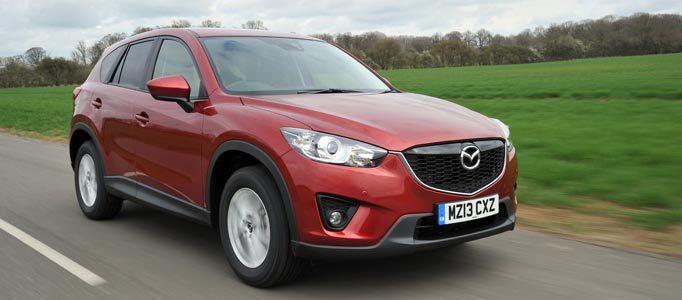 The Mazda CX-5 is another great example of how to do a crossover correctly, another nice all rounder which is in essence what these vehicles should be.
First of all the CX-5 is quite nice to look at, it isn't anything extra special but it is a handsome looking car and something that looks like a Lamborghini in steroids is not really what you want to be running the family about in anyway we think. We like it.
The 2.2 litre diesel is a great engine and it pulls all across the rev range so you don't have to push the engine too hard to get decent speed, unfortunately all the engines except the small diesel are not particularly refined and they are not particularly smooth and make a fair racket. On the subject of noise there is quite a noticeable amount of wind noise and tyre roar which is a shame and the Qashqai scores on over on the CX-5 on that front.
Do not let the previous totally put you off though, despite being a bit noisy the CX-5 has a really great ride and it is easy to forget that you are in a larger vehicle because it feels like you are driving around a nippy little hatchback.
The prices on this model do start a bit high, at £20,350 they are a quite noticeably more than the Qashqai but similarly to the Qashqai it will resell well and does benefit from very low running costs. The CX-5 is the cleanest running car of its type, Mazda's Skyactiv engine technology really is great and you will feel the benefit of this in your pocket when the time comes to tax it.
Practicality, this is where the Mazda really excels itself, it has an enormous boot with seats that fold almost totally flat for even more room. Somehow the huge has absolutely no effect on room in the vehicle either, there is more than enough room for heads and legs for all of the passenger and you probably could swing a cat in there (if that is what you are in to).
Equipment is another strong suit for the CX-5, although you might expect this from the slightly more expensive price, it comes standard with dual-zone climate control, front and rear parking sensors, automatic lights and wipers, Bluetooth and cruise control which is great.
Looking for a decent looking, practical, well kitted out family wagon, this might be your man but wait, don't choose just yet there is more!