Suzuki Swift Sport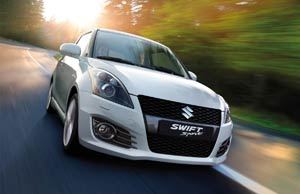 The Suzuki Swift Sport is powered by a 1.6 litre petrol engine that develops 134bhp and gets the car from 0-60mph in 8.7 seconds – Ok so its not the quickest of the hot hatches off the mark, but it feel nippy around town and it does show plenty of grip and minimal body roll when put to the test on smaller country roads.
The Suzuki Swift Sport is great fun to drive and cheap to run. It's not the plushest of hatchbacks, but value for money it has everything that you would want and more.
The Suzuki Sport is not too dis-similar from the Suzuki Swift in terms of its looks.
It gets a subtle body kit, twin exhaust pipes, rear spoiler, sport seats and a leather trimmed steering wheel. Suzuki have opted to keep this car fairly basic In terms of its image but it is still surefooted and entertaining and part of the reason why it won the Best Hot Hatchback Award in 2013 awarded by Carbuyer.
Whilst the Swift Sport lacks in technology in comparison to some of its rivals its lightweight build helps it to return a decent economy of 44.1mpg protecting both the environment and also your wallet.
Whilst Suzuki might not be the most reliable brand in the world with the firm only managing 29th out of 32 in the 2013 Driver Power Survey. A survey set out to find Britain's best cars to own the cars safety does make up for this receiving a full 5 stars from the Euro NCAP guide.
Search for a used Suzuki Swift here
If reading this article has got you in the mood to change your car, then we can help! Apply for car finance today and we can help you to finance the hot hatch of your dreams!