Pace Notes
Pace notes are the magical language through which a co-driver communicates with his driver. At least that is what it sounds like when they are being read out. In actuality they are, simply put, shortened route instructions, nothing magical here! The shortened nature of the notes comes out of necessity, for the notes to actually be useful to the driver they need to be able to be relayed very quickly and concisely. There is no set way to produce pace notes, a driver and co-driver can produce them however they want, in the way that works the best for the pair, but they are generally all quite similar. They can vary in the type of measurement used, metric or imperial and can be in the preferred language of the team.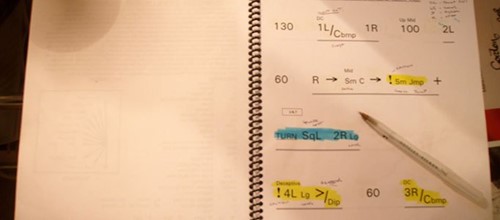 Image Credit: Wikipedia – Prolog
They provide a wealth of information using a very small number of words. Pace notes describe the general route to be taken as well as turnings, speed to approach corners, junctions, severity of bends, crests, jumps, surface type, potholes or irregularities in the road, pretty much everything that might affect the vehicle needs describing in some way.
In the WRC the co-driver and driver scout and create their own notes, however in some rallies it is the organiser that provides the notes so that everyone is on the same level.
None of that is going to help you understand what the co-driver is talking about when he starts reading out the pace notes though, which is why I have provided an example and translation below.
Pace Notes
1. Start, 30, Keep left over a crest into short 4 right plus opens, 60, crest and 6 right plus and don't cut short 6 left minus.
2. 60, line into 2 right minus over a bump tightens to a hairpin over a ditch.
3. Into 6 left long opens over a crest, 30, 6 right into 3 left plus long don't cut tightens to 1, into a short 1 right plus and short 2 left minus tightens at junction (junction 2 at 0.6kms) 20.
Translation
1. Start, drive 30 metres then keep left over a crest into a fast fourth gear right-hand corner, accelerate for 60 metres to a crest, then stay in the middle of the road for a sixth gear left hand corner in half throttle.
2. Drive 60 metres, keep to the left hand side of the road for a second-gear right-hand corner, which tightens very badly over a bump, at the same time brake hard for a hairpin over a drainage ditch.
3. Accelerate flat out into a sixth-gear long, left-hand corner over a crest, drive 30 metres then into a sixth gear right-hand corner, brake hard for a third gear left-hand corner in half throttle. Stay in the middle of the road for their are some bad rocks on the inside, and then brake as it tightens to first-gear, immediately changing direction into a fast, first-gear right-hand corner. Then accelerate into a second-gear left-corner past a junction (junction No 2 in the road book at 0.6 Kms), carry on for 20 metres.
To see how much of the difference those notes make, have a go at reading both versions out and see how much faster the pace notes are! It is quite noticeable.