Some people think it's go-faster stripes which give cars their speed. Others say it's vents, and lots of them. There's a small group of gearheads in Japan who love their spoilers. There's only one who thought of the magical combination of Michael Bay's Transformers movies, rust and dragons as the winning formula to beat his friends down the quarter-mile, and it's magnificent.
One proud Ebayer is selling their BMW 318TI Sport and I'd like to break this down a bit, so we can all take in the insanity of this wondrous machine.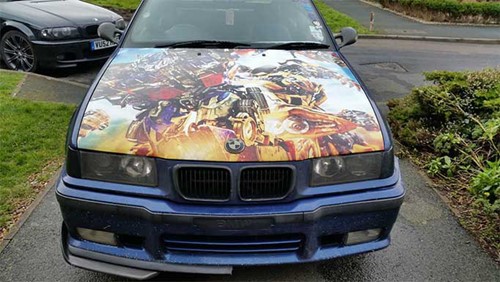 I'm not entirely sure this is an officially licensed Transformers product, but I'm sure Mr Bay would approve.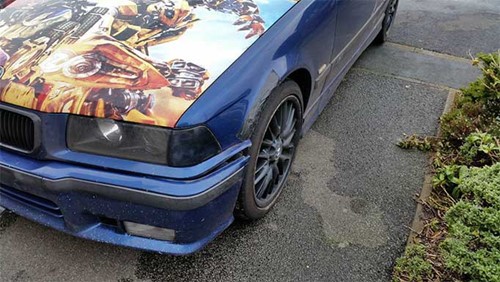 The first of many battle scars, but what can you expect when you've got badass robots on the hood?!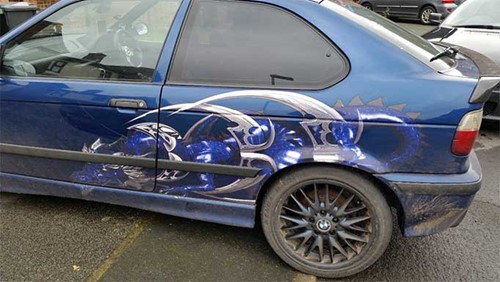 If I was to buy a car, it would definitely have to have a dragon in and/or on it. This magnificent beast has one on EACH SIDE. Feast your eyes, people! Not only this, but the dragons seem to be equipped with some kind of metallic blades for extra fightin'!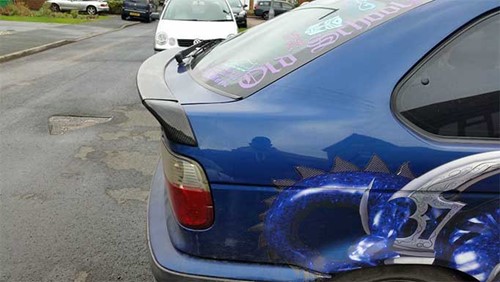 Dragons? Check. Transformers? Check. Blue? Well, yeah… What else do you need? Oh, a carbon fibre spoiler! Excellent. Dat weight reduction!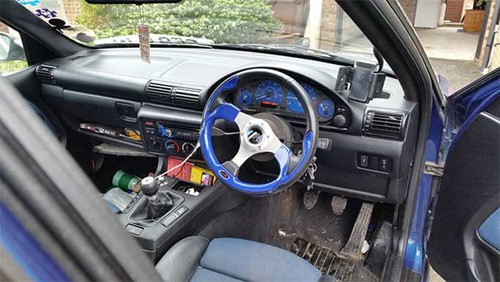 The ad doesn't confirm if you get the car with the added bonus of the owner's stuff. But I sure as hell hope so. Dealbreaker if not, I'm afraid!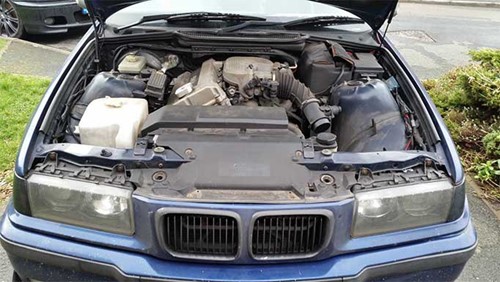 Can confirm. Has an engine, or some of it.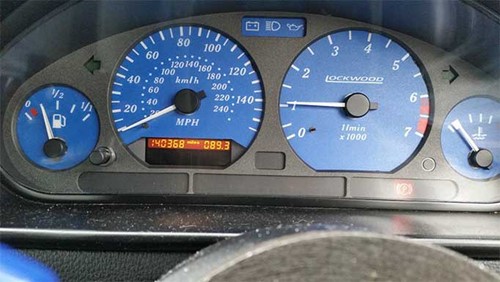 ONLY 140,000 miles, everybody! This is probably the best deal you'll get on a blue BMW with dragons on it with such low mileage!
As you can see, this thing is a beauty. What you CAN'T see is the blue LEDs in the foot-wells which are sure to suit any Fast and Furious drifters. There are a few problems, however. The seller explains:
Due to an accident there is a bit of damage to the front passenger side as u see in the photo also there is rust on the passenger side wing but I do have a new wing for the car and it just needs painting which I will include, the main problem is the noise coming from the engine that I have been told could be the bottom end. [sic]
As I write this, the car has had no less than 16 bids and hit the £160 mark. I can confirm, however, that car finance is not available on this vehicle. For a BMW you can finance, head on over to our car search and see what we have to offer!