Frankenstein's Monster – Pontiac Aztek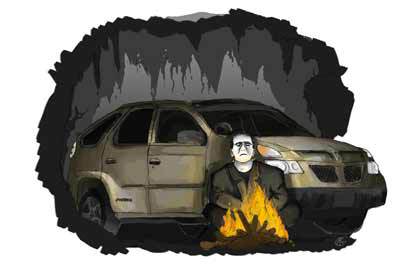 When Victor Frankenstein created life, he saw he'd created a monster and cast it out.
Abandoned from the world, the creature wandered through the wilderness until he found a family living in the woods. He taught himself to speak by watching them, and befriended the blind patriarch. When the family saw the beast and drove him out once again, he continued his journey, 'til one day he stumbled upon a barn. Forcing the door open so he can hide from the cold winter, he waited for his eyes to adapt to the darkness.
The creature wandered around the cluttered garage, inspecting all the trinkets and objects cast aside. In the corner, under a blanket laid a large, imposing shadow. Stepping closer, he removed the blanket to reveal the object underneath, and gasped. Below the fabric lay an machine as beastly and hated as himself – A Pontiac Aztek.
OK, so this wasn't from the official telling of Mary Shelley's seminal novel, but it makes sense. From the moment the Aztek was unveiled, there was instant hatred. It was mocked, chastised for its ugliness.
Now regularly used as a case study as how not to design a car, the Mexican-built Aztek has taken a place on many "worst cars ever" lists from publications including the Telegraph and TIME magazine. A worthy companion to the most misunderstood monster of all, then?
Illustration Shout-out – Thanks to Alice Cheetham of Running Riot
Do you agree with this list? Can you think of any other car/monster mash-ups you'd like to see? Let us know in the comments below, and take a better look at the illustrations over on our Facebook page. Happy Halloween!