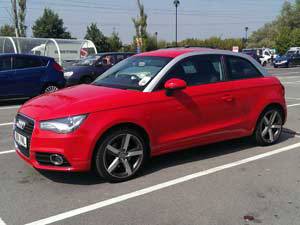 I don't need a big car, or an especially fast one. I need toys. Lots and lots of toys – and toys I got! Satellite navigation, SD-card readers and Audi's Multi-Media Interface (MMI) were all included in my Audi A1. The CD player is also a DVD player! I have no idea why this is even a thing, but when I found out I ran out to my car with my top-gun DVD nonetheless and sat in my driveway watching Maverick doing what he does best. The video is turned off when the car is moving (because safety), but you can still listen to "Highway To The Danger Zone" and Goose singing "Great Balls of Fire" as you drive down the M25 around if you are really, really into Top Gun. Which you are…. right?
The 1.4 litre TFSI engine in the A1 performs brilliantly, especially when you're alone in the car. Driving down the motorway feels composed and you can really throw the car around corners if you're more of a country road driver. I love to go on drives out into the Purbecks and finding some long winding roads to enjoy on a sunny evening. The handling is responsive and you get a good amount of feedback through the wheel, though if you've got a few people in the car, it can become a little more cumbersome around corners.
So what does the Audi A1 say about me? I'd like to think that the little Audi says I like things that are well-designed and well-refined. I know that I choose design over price much of the time, and even though I could have bought a Polo (or a Fabia, or an Ibiza, for that matter – they're all the same car underneath) for much cheaper, the Audi is the only car that really spoke to me.