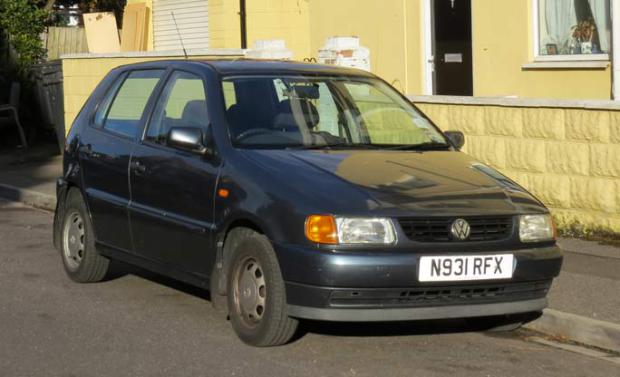 Look closely at my car, and you are likely to meet the residents-of-my-wing-mirror spider family. Being the nature fanatic that I am, I'm glad that they've found their perfect fly-catching spot. What this says about me? Likely a bit about my eco-warrior/hippy leaning.
The fact that I climb through the boot of my car to unlock it probably says quite a bit about me. In the space of two weeks both the passenger and driver side locks broke. I could have had it fixed, but it's funny how quickly you get used to something that initially seems like you could live without. I'm pretty sure Darwin said something about adaptability being a good thing. I'll let you make your judgements.
So why don't I get all of these things fixed? I hear you say. Well, my Polo is getting more expensive to fix thanks to it being an old car. I'll give you the example of the door locks. It would cost me £400 to replace the parts because they're just not manufactured any more. As long as my car functions well enough to get me to where I want to go, I will always stash my cash to save up and travel. For someone that loves the sun, I'd say that shows I have my priorities in order!
Let's add in a bit of psychology. Professor Andrew Blake, a social scientist specialising in driving habits states there are two main groups of drivers; the expressives and the instrumentalists. The instrumentalists being the car owners that are more likely to 'tolerate failings or idiosyncrasies' and 'are affectionate about a cars failings'. Sounds like I'm definitely an instrumentalist then! Additionally, Dr Peter Marsh, a psychologist from the Social Issues Research Centre, says, "Driving can represent an everyday escape in the sense that the car absolves the driver of any other responsibility to be anything more than a driver for the duration of the drive." …and that's maybe why I don't tend to it's every need, it's one area of my life I can allow myself to be complacent with and not have to worry about!
So what does my car say about me? I think it says that I'm quite nostalgic, every dent, scratch and bit of dirt has a story. It says that I'm down to earth and like reliable things that I don't have to stress about and can keep up with my outdoorsy lifestyle.
I tell people my car is just a means of getting from A to B, but in reality, I love my car, and despite its flaws it gives me the freedom to get to the places I want to be with the people I want to be with. I can't argue with that.
If my story on what my VW Polo says about me makes you crave a used Polo, take at look at our vehicle database!