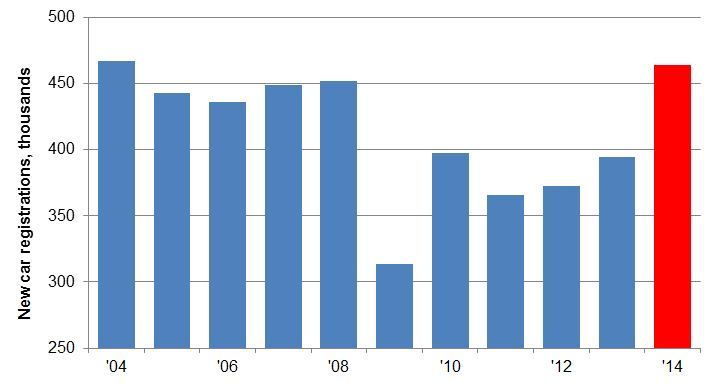 March new car registrations 2004-2014
The sales figure was also the second-highest on record since the introduction of twice-yearly car registrations in 1999.
Mr Hawes commented "given the past six years of subdued economic performance across the U.K, there is still a substantial margin of pent-up demand that is contributing to a strong new and used car market".
The huge demand for the new 14-plate can be put down to several reasons, the first being the fantastic range of new vehicles available on the market.
The second reason could be attributed to the attractive finance packages available to consumers. The competitive finance deals available have boosted sales, with many drivers being able to take advantage of low repayments and the ability to switch from vehicle to vehicle more easily.
Mark Hawes comments "there has never been a better time to buy a new car thanks to attractive finance deals and advanced technologies that often make new cars cheaper to run. We expect the market to continue to perform positively for the rest of the year, albeit at a more modest rate."
For more information about whether you qualify for an attractive car finance deal please visit our dedicated 'Will I Qualify' help and advice section or the apply with Creditplus page on our website.
The final reason could be due to advances in technology. Cars are becoming more fuel efficient, therefore cheaper to run. 2014 has displayed an excellent array of vehicles and although no supercars, luxury saloons or large 4x4s were mentioned amongst the top 10 most popular cars of 2014, a study conducted by Autoexpress confirmed that a lot of the smaller, fuel-efficient vehicles were.
Whilst the above factors have clearly been instrumental in the success of the growth of the 14 plate in March it is important to remember that March on the whole generally performs better than any other month in the financial calendar because new registration plates are issued every six months in March and September thus naturally boosting sales.