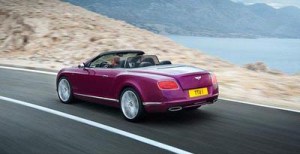 Importers joined the hairy-chested atmosphere at the North American International Auto Show too – Porsche launched its fastest and most expensive Cayenne yet, the Turbo S; Bentley revealed its new 200mph-plus convertible Bentley Continental GT Speed (the fastest four-seater soft-top in the world); and Audi's twin-turbo 189mph 'sportsback' coupe, the R7, was shown for the first time.
VW showed off a new big seven-seater SUV, the CrossBlue, and there was even a one-off gold-plated Nissan GT-R supercar on display. To say the mood was optimistic is an understatement.
After years of cost-cutting, job-shedding and downsizing by America's big three car makers, this was a resurgent traditional show. As the Guardian's Dominic Rushe said, this seemed to be "the year when big comes back".
More than 6,000 journalists from around the world reported on stars of the show like Mercedes' CLA, a new luxury four-door coupe class. This has radar-based braking and an ultra-sleek shape that Mercedes claims makes the CLA the most aerodynamic production car ever.
The new cars were unveiled thick and fast across the Detroit show hall: Honda's new Urban SUV is a crossover concept based on the Jazz with a European version likely to be built at Swindon in the UK and Infiniti's Q50 is a premium rear-wheel-drive sports saloon aimed right at the BMW 3-Series.