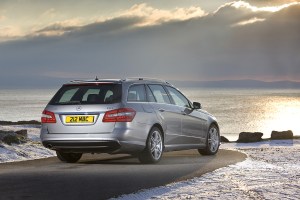 The new E-Class comes in a choice of two faces. You can go for the conservative style of the Elegance, with a sober grille and a star badge atop the bonnet, or you can opt for the funkier Avantgarde, with a more contemporary look and a large black-centred star in the middle of the grille.
Either car comes loaded with opulent kit, including eleven new or improved driver assistance systems to help avoid or minimise collisions. All models have LED headlamps and a little jewel of an analogue clock on the dash. Among the features offered are a split screen monitor that lets the driver view the satnav while his passenger watches a film, a stereo camera in the windscreen that monitors the road ahead, auto-dipping headlamps, and a system that automatically applies the brake if another vehicle crosses the car's path.
The best-selling model for the UK is certain to be the E220 CDI with a two-litre, four-cylinder diesel engine. It's a good workhorse in a pretty package and a very adequate performer, but it isn't as smooth or refined as we'd like. Those who can afford it should trade up to the E350 BlueTEC with a three-litre V6 diesel, which is silkier and quieter. Or if you want to be greener, there's a diesel-electric hybrid.
At the top of the new E-Class range is the E63 AMG, with a powerful V8 under the bonnet and four-wheel-drive. Its interior décor is a touch bling with lots of bright metal highlighting, but oh what a performer! It has massive punch underfoot and a limpet grip on the bends. It comes with top-notch Bang and Olufsen stereo, but the sound the engine makes is exquisite aural wallpaper to decorate any drive. It's a car good enough to satisfy the most exacting automotive gourmets.
Mercedes-Benz E-Class
UK on sale: late April 2013
Body styles: 4-door saloon or five-door estate
Engines: 2.2 or 3.0 diesel, 2.2 diesel-electric hybrid, 2.0 or 5.5 litre petrol
Transmissions: six-speed manual, seven-speed auto
Economy: 28.8 to 68.9 mpg
Prices: £32,400 to £75,510