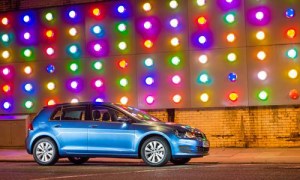 Add to the mix a cabin that has been given a significant upgrade, and would not disgrace one of the prestige German brands, and you have in the new Golf what one influential motoring magazine described as "all the car you'll ever need". I was hugely impressed when I drove it on the international press launch in Sardinia.
At its heart is Volkswagen's new secret weapon, something you can't see but can certainly feel the influence of as you drive. It is the VW Group's new MQB (which stands for something barely pronounceable in German) modular chassis. This is the car's internal structure that underpins not only the Golf, but also several others of the group's newly arrived models: the latest Audi A3 and Seat Leon, and the new Skoda Octavia.
Skoda expects to do very well with this third generation Octavia, and has big ambitions for it worldwide. There is talk of the Skoda becoming a global top-ten selling car. Already the Czech car maker's best-selling model, the redesigned Octavia has taken such a distinct upward move in quality that it seems more 'Skaudi' than Skoda. On the launch drive on switchback rural roads through the Algarve region of Portugal, the Octavia impressed me with its grippy handling, supple ride and pleasing refinement.
It competes in the same part of the car market as the Golf, but feels bigger. The Octavia has loads of knee-room, enough headroom to make six-footers feel on the short side, and an enormous boot. While the Golf has five seats and 380 litres of luggage room, the Octavia carries the same number of people plus 590 litres of their kit.
All of which begs a question: why buy a Golf when you can have more space for less money with an Octavia? The added poise and polish of the Golf provides the answer. But how canny of the VW Group that one of the Golf's best rivals is its close cousin, the Octavia. Keep it in the family.
Volkswagen Golf
On sale: now
Body styles: 3-door or 5-door hatchbacks
Engines: 1.2 and 1.4 petrol,1.6 or 2.0 diesel
Prices: £16,330 to £22,555
Skoda Octavia
On sale: March
Engines: 1.2 or 1.4 petrol, 1.6 or 2.0 diesel.
Bodystyle: five-door hatchback
Prices: £15,990 to £23,240