Electric car at the Dakar
It comes as no surprise that it's taken a little longer for electric cars to participate in the great race that is the Dakar Rally. There really is no other race that comes close to pushing man and machine to the limit. And with 350 vehicles racing, including 556 competitors, there is no shortage of people willing to take on the challenge. In terms of entertainment, I put the Dakar up there with the IOM TT, as the footage is always breathtaking. Talk about visual overload!
The unspoiled natural scenery alone is hypnotizing enough, but then you see a top performance machine flying across at speeds that seem unreal on such unforgiving terrain. And modern HD technology coupled with drone cameras, really makes it come alive through the television. I invite anyone (racing fan or not) to watch a stage of the rally and not be impressed. It becomes clear to the spectator how fast and hard the competitors are racing, and you would be forgiven for forgetting this is an endurance race with some stages that can last over 5 hours.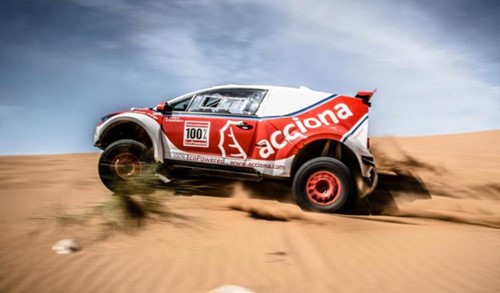 Having to race for over 5 hours straight is tough enough for any racer, but they can only finish if the vehicle makes the distance. It's challenging enough for the tried and tested combustion engine cars, but when using a brand new battery powered electric car the task takes on a whole new meaning. Although the electric car didn't reach the full race distance it did come very close, finishing ten stages out of the thirteen. Also consider the fact that the same team were the first ever to use a full electric car to participate last year at the 2015 Dakar, where they completed 2 stages. And that the same car made further history being the first electric car to finish a world championship race at the International Rally of Morocco in October 2015. It's clear to see how quickly this technology is now advancing.