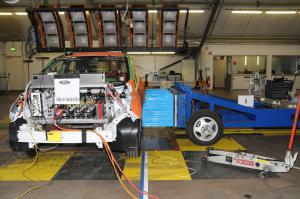 The first alarm bells ring when you realise that NCAP is part of the European Union's bureaucratic health and safety empire. The full title is European New Car Assessment Programme and it is based, unsurprisingly, in Brussels.
What is surprising is that NCAP has nothing to do with Type Approval. These are the tests done on every new model to check it's safe enough to be used on the road. These follow specific tests laid down as law. So every type of car sold in Europe has to pass these Type Approval tests.
NCAP is different. It merely tests a selection of popular cars, which are often chosen by the manufacturer themselves. They use the same crash tests as Type Approval but also cars are 'tested' according to what features N-CAP officials are trying to promote, whether this affects performance in the crash tests or not.
It's part of a Health & Safety philosophy that aims to actively push safety features into car designs by punishing manufacturers that don't fit them with low ratings. For example, Euro NCAP officials are currently very keen on autonomous emergency braking systems and are rumoured to have warned all manufacturers that from next year they will not be able to score five out of five unless these systems are fitted.
Whether you as a consumer want this system or not is irrelevant to NCAP. They have decided on your behalf. Over the years this has lead to today's cars increasingly loaded with 'safety' gadgets like traction control, anti-submarining seats and airbags. It wasn't consumer demand that lead to these expensive additions to our cars – it was pressure from NCAP health and safety professionals.