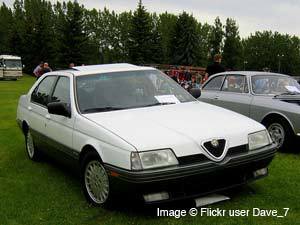 Over at the 1987 Frankfurt Motor Show, Alfa Romeo – still an independent company at the time – unveiled their 164 saloon to compete with the Ford Granada and others. It was designed by the world-famous design house Pininfarina, and was based on a platform developed in conjunction with Lancia, Fiat and Saab. It was the last Alfa to be sold in the North American market – a market the company has been trying to re-enter recently with the 4C.
Other cars launched or facelifted in the year 1987 include the Citroen AX, the Peugeot 405 and other really boring and rubbish cars that nobody really cares that much about. BUT WAIT!
In a small shed somewhere in Italy, a company called Ferrari (yeah, I've never heard of them either) released a car called the F40. This car was a mid-engine, rear-wheel-drive supercar of which only 1,315 were built. It had a retail price of $400,000 at the time and it has gone on to be hailed as one of the greatest cars – if not THE greatest car – of all time.
Coming in with a weight of 1,100 kg and an output of 471 horsepower, the car screamed from zero to 62mph in just 3.8 seconds. If you really wanted to push it, the F40 could hit a top speed of 324 km/h (201 mph). This car was definitely not a slouch!
A restored F40 with just over 7,000 miles on the clock recently sold for $742,500, however this version was much lighter and faster than the original stock machine.
So 1987, the year of my birth and the birth of an all-time classic supercar. I think this calls for a song…
What else happened in 1987? Did I miss any important cars? Let us know in the comments!