Volkswagen E-Golf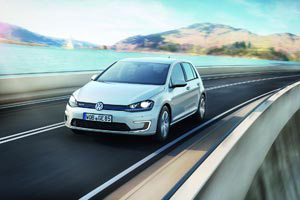 I'm starting to realise that this was a very German auto show and that sort of makes sense, given that it was in Germany. There was a lot of noise from other manufacturers but the VW group definitely stole the show.
As part of their ridiculously huge conference, they showed off their new E-Up! and E-Golf electric vehicles which will be available from spring 2014. The former will come equipped with a 60kW motor with a battery that lasts between 120-160km range on a single charge. The Larger sibling will sport a larger 85kW motor able to hit 62mph in 10.4 seconds. The range for the E-Golf is a little more broad, with figures stating it can hit anywhere between 130km and 190km on a single charge.
It doesn't seem like Volkswagen wants to let the cat out of the bag in terms of pricing just yet for the E-Golf, but if the E-Up!'s €27,000 price point is any indication, it's unlikely to be cheap by any stretch of the imagination.
So there we have it. The highlights of 2013's Frankfurt Motor Show's production unveilings. Do you agree? Think something else should be up here? Let us know in the comments below!