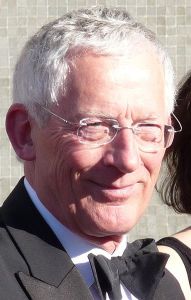 "I set off from London in 'Hortense', a 20-year-old plus Renault 4L, which is the best car for the rally," recalls Nick, who recorded a video diary for The Telegraph newspaper on his incredible journey. "Some 50 days later, and having passed through 14 countries, I arrived in Ulan Bator. I stopped off in Romania to see the work HHC are doing there which is fantastic. I wasn't part of the main rally, heading off as a solo traveller three weeks before everyone else. The whole experience was incredible and I'd do it again in a heartbeat."
More recently, Nick took to the road again with Sierra Leone his destination. The PR guru, who owns property in Northamptonshire and France, was moved by a previous visit to the country and the entrepreneurial spirit of youngsters there, despite living in abject poverty. His vow to support HHC's development work there was demonstrated in the most extraordinary way, as he drove 5,000 miles to the country to bring equipment to the West African state, which featured in a Channel 4 documentary.
"I was in Sierra Leone a few years ago filming for HHC, when I met some young lads who wanted to be carpenters," says Hewer. "There was one youngster in particular called James Conteh, who impressed me greatly because his entrepreneurial attitudes. So after that visit, I planned another, going on a land trip carrying carpentry equipment with me. I headed off with a trailer carrying an industrial saw and generator and it was a fascinating personal journey for me.
"As well as bringing the equipment, one of the first things I did was open a bank account for James and give him some business cards. Vistaprint are the company that kindly supplied the business cards. They are active across Sierra Leone supporting a charity called Street Child (indeed, they also sponsor the Sierra Leone Marathon) and later this year, they will be giving him a huge parcel of business cards, posters etc supporting his business."
The launch of the The Apprentice back in 2005 prevented Nick retiring early to his home in the French village of Tarn-et-Garonne. The 69-year joie de vivre is unmistakable as is his relevance in the modern business world. On "rare free weekends", you might even spot him cruising round country roads in Northamptonshire in his racing green V12 Aston Martin DB7 or a 1931 Austin Seven 'Swallow' Tourer.