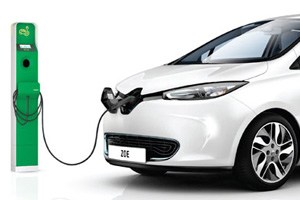 Power supplies and charging stations
One subject that is mentioned time and time again by consumers and car manufacturers is the relatively small number of charging stations available around the world. Many governments and local authorities have invested significant funding into building charging stations, but the relatively slow improvements in battery technology has had an impact upon the image of the industry. However, it seems things are changing!
The last few months have seen a number of new and improved battery power sources released to the market. This has given renewed hope for greater advances in battery technology during 2013 as well as a significant up scaling of the number of charging stations around the world. These factors will assist the market in growing in the short, medium and longer term and indeed could allay many of the fears, many of them unfounded, which the general public maintains about the electric car market.
In many ways the industry has put the cart before the horse, due to the fact that battery technology has not advanced at anywhere near the same speed as electric car technology. This has been recognised by many car manufacturers, governments and consumers, which has prompted significant investment in battery power technology and this is starting to pay dividends.
Conclusion
The transfer from traditional fuel powered vehicles to electric vehicles, and other fuel sources, was always going to be a slow process. This is predominantly due to the early stage at which battery technology is at the moment – together with misconceptions amongst the general public. There are also various groups around the world who have a vested interest in maintaining the status quo between traditional petrol/gasoline powered vehicles and alternative fuel supplies – at the end of the day, money does talk to a certain extent!
That said, there was significant progress during 2012 and there are high hopes for 2013. Even with setbacks such as the Nissan Leaf battery problem and the limited journey capacity among some vehicles, it would take a brave person to back against the electric car sector growing here on in. Governments will need to play their part with regards to additional financial support for consumers and car manufacturers, but with many already being held to task by various green lobby groups the pressure is certainly building to deliver on past promises of financial support.
We may need to wait until the worldwide economy is back on an even keel before we see the underlying strength of the electric vehicle market come through. In the meantime there is no doubt that this sector is still bubbling nicely with demand growing, major technological advancements and a greater awareness of the potential benefits to the environment. While perhaps not the "perfect storm" situation that many electric vehicle enthusiasts had hoped for, there is no doubt there is significant room for improvement and growth in the short, medium and most certainly longer term.