Mercedes Benz AMG Gran Turismo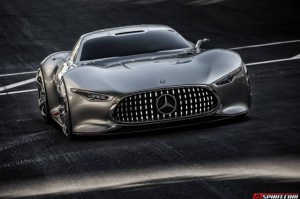 Source – http://www.gtspirit.com/2013/11/17/official-mercedes-benz-amg-vision-gran-turismo-2/
The much loved Gran Turismo games have been around since the times of the original Playstation, and this year it celebrates its 15th anniversary.
Renowned for bringing the most popular and exciting supercars to the gaming world, as well as concept cars that never made it past the motoring show, Polyphony Digital, developer of the Gran Turismo series, set a challenge to the world's supercar manufacturers to create a real life concept car that showcase the future of sports car design.
The response from car manufacturers to Polyphony CEO Kazunori Yamauchi's challenge has been overwhelming, with design teams from some of the most prestigious car manufacturers signing up to take part.
Mercedes AMG have been the first to give it go, and the supercar concept they have revealed at the LA Auto Show is a marvel. It is sleek, low and imposing, designed to capture the image of a predator about to strike, with oversized wheel arches and a front end of huge proportions. It is a car that will fit in perfectly with Gran Turismo, but being a concept, it's highly unlikely you will ever see it on the streets.
The Mercedes Benz AMG Vision Gran Turismo draws inspiration from the famed 300SL, and runs a turbocharged V8 petrol engine, giving it 577bhp and 590lb ft of torque. The car has a virtual aluminium spaceframe body which weighs 1385kg and has a power-to-weight ratio of 417bhp per tonne.