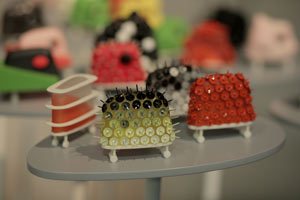 Designers Pernilla Ohrstedt, Matthew Plummer-Fernandez, Dominic Wilcox, Alexandra Daisy Ginsberg, Lucy McRae and Keiichi Matsuda have all contributed a piece to the show, all centered around the future and how cars and mobility as a whole will look.
Alexandra Daisy Ginsberg has created a vision of the future where a car manufacturer (let's just say Mini, shall we?) only makes the basic chassis to which sustainable and biodegradable shells are added, made using natural and local resources. As the piece progresses, evolution and fluidity takes over through 13 "generations" of the same vehicle.
Taking the idea of customisation into the booming bobble-head space, Matthew Plummer-Fernandez has conceived an interactive system with which to design and 3d-print an unique figurine to join you on your journey into the future! According to Mini, these connected and intelligent driving companions can "be connected to the car's GPS, can offer tips to the driver according to driving style and speed, and can act as speakers for hands-free phones." For reasons unknown to the writer they mostly look like amorphous blobs with cat faces. I want one.