Subaru Impreza WRX STi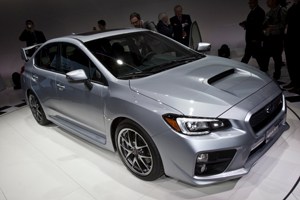 The Subaru on the other hand goes the turbo-four route, using the same 2.5 horizontally opposed engine as in the previous Impreza STI – while a heavy-duty, short-throw, six-speed box transfers power to all wheels.
The Impreza has returned with sharper handling and aggressive styling and communicates magnificently thanks to the hydraulic assisted power-steering. Updates include a larger intercooler and new cylinder heads, and the resultant output comes in at a bursting 305 horsepower and 290 pound-feet of torque.
The STI has its own little bag of tricks too, a three-mode engine-control knob and a centre differential that splits the torque front to rear, depending on three automatic or 6 manual settings controlled by the driver.
The Evo has less horsepower than the Subaru and is almost 200 pounds in weight heavier, but it still manages to do 0 to 60mph in under 5 seconds, 4.6 to be exact!
The torque peak of the Evo occurs at a higher rpm than the STI's, but the seat of our pants tells us the Evo has more torque at lower rpm.
Now if you like a car that's on the quiet side, the Evo might not be the car for you.
Unfortunately the noise from the engine is extremely present, and if that isn't bad enough it the racket continues to bounce off the roof of your vehicle hitting your ears for a second time!
However, don't let that put you off just yet! There are plenty of pros to owning an Evo too! The Evo clings to the road and I met literally, regardless of the weather conditions.
The stiff brake pedal is more communicative too, and the brakes don't ever seem to fade.
Both the Evo and the Subaru are without a doubt, reliable, capable cars, so if you want to get somewhere in a hurry either one would be the right car for you.
Visit our vehicle search to find Subaru WRX STi Saloon and Hatchback available on car finance. Monthly payments will be around £640 a month. See if they are still available by searching our vehicle database. The Mitsubishi EVO isn't on our website at present, but if you are looking for one, let your customer advisor know. Our logistics team work with the best car dealers in the UK and will be sure to be able to track one down for you. Get in touch.