So Why Is Rossi So Upset?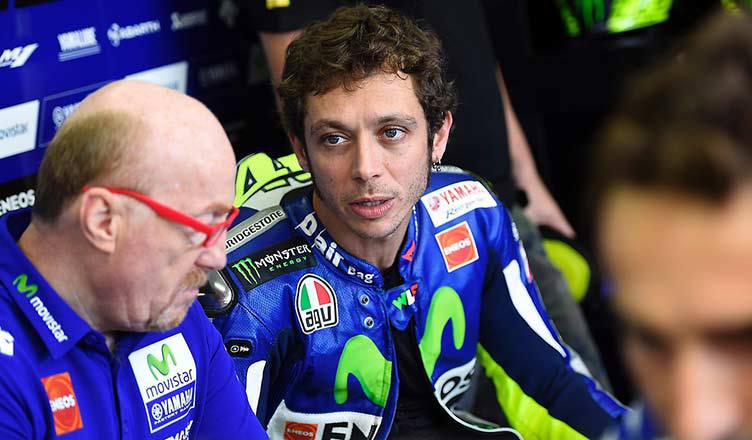 Valentino Rossi at Valencia Grand Prix, Valencia, 8th November 2015
It was not until after the race that Rossi spoke out, claiming that Marc Marcquez, who finished second, was riding as Lorenzo's bodyguard, hanging behind Lorenzo but never really making a move to pass. This allegedly stopped third place finisher, Dani Pedrosa, from making any kind of move for the lead and ultimately handing Lorenzo the points to beat Rossi in the championship.
"I am sad that Marquez acted as bodyguard for Lorenzo. I had already said on Thursday, I was convinced that they would go to the end, I was sure they would have conspired against me, as happened in football."
Rossi is convinced that the two Spanish riders have colluded against him to deny him his tenth world title, he has even gone as far as saying it is because they are both Spanish that they are working together. "I don't know if Marquez protected Lorenzo because they are both Spanish, but it's sad he chose to be his bodyguard. Lorenzo has never done what Marquez did. But for his behaviour after Malaysia he deserves to be treated like Marquez."
The final race has only compounded feelings that Rossi had already mentioned, referencing the controversial collision between Rossi and Marquez in Malaysia. He even goes as far to mention the 'Nordic Fix' in his press conference, wherein Sweden and Denmark apparently worked together to knock Italy out of the Euro 2004 football tournament.
This all sounds a bit too 'tin foil hat' for my liking. Rossi will of course be extremely disappointed; to be leading for such stretch of the tournament only to lose by five measly points in the final would be crushing, no doubt. Also, I am not saying that there is not some merit to what Rossi is saying but seriously? Two riders, riding for different manufacturers, going against their own teams to gang up and stop you from winning the championship? It might be time for a trip to The Doctor (I am so sorry). Rossi is actually partly right, Lorenzo has said that he feels Marquez might not have been pushing him as hard as he could because they are both from Spain. However the same would be, and has been, true of Italian riders allowing Rossi to breeze past them without a fight.