The all electric racing series has had five races now with five different winners and Nicolas Prost (e.dams Renault) is the latest to claim victory.
The Miami ePrix took place over the weekend; it was unfortunately overshadowed largely by Formula One. I think maybe in future it might be best to try and avoid putting Formula E races on at the same time as Formula One. I'm sure there isn't that many days available for closing off public roads but for a fledgling series that needs all the fans it can get it seems like that should have been looked at. But hey, what do I know?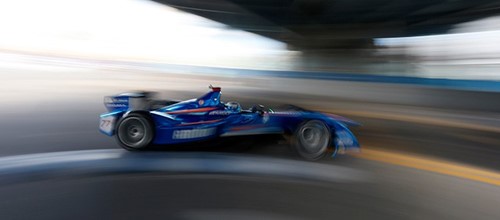 Anyway, for those that didn't watch, it was a really exciting race, it is definitely getting better and better with every meeting! Jean-Eric Vergne (Andretti) sped off the pole position in to first with Prost's car giving him a nudge into corner one but Vergne held on. Prost remained in second while Sam Bird (Virgin) shot past Daniel Abt (Audi Sport Abt), all in the opening seconds of the race!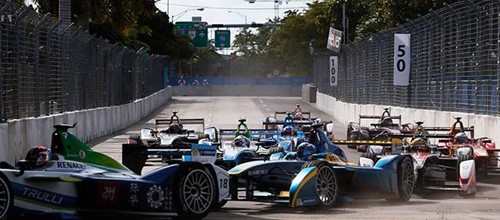 Sam Bird was on form this weekend and quickly passed Prost in the opening lap to grab second, he then went after Vergne. He had made the ground up by lap four, Bird was right behind Vergne but the Andretti driver managed to hold him off until lap 17. Bird made a fantastic move on corner five and jumped in front of Vergne, he was almost instantly warned about using too much of his energy reserve and subsequently had to spend the next lap nursing it round at less than race speed. He reported back to the pit crew than he had 0.1% left in his energy reserve, cutting it close! Vergne used this time sensibly, heading straight in to pit lane for a car swap and Bird never fully recovered from his slow lap.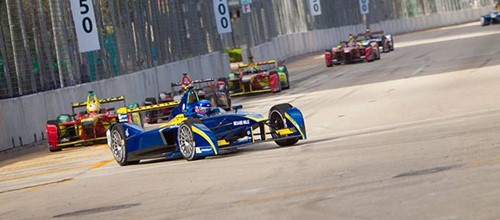 Abt, Prost and points leader (at the time) Lucas Di Grassi all got out of their car swaps faster than Vergne who suffered from a slow one and found himself seven seconds behind the pack! Abt lead Prost toward the end of the race but Prost had the power reserve advantage and was closing in while Di Grassi hung back in third waiting for his moment.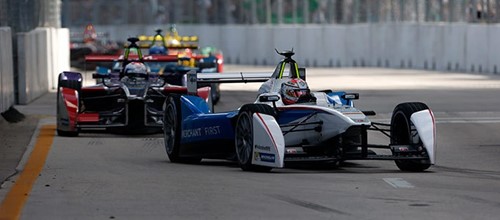 At this point Vergne was still suffering from that long pit stop and a waning energy reserve. He also had his teammate Scott Speed right behind, with an ever slowing car Vergne had no chance of fending off Speed who passed him for fourth. Speed didn't stop there; he went on the attack and passed Di Grassi without much ado to take third.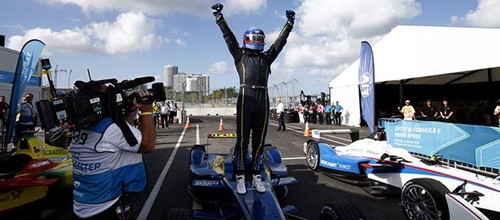 It was pretty close between first, second and third in the final stages of the race. Abt who held first was slowing due to low power and simply couldn't hold off Prost and Speed who both passed him. Right at the start of the final lap, Prost hit the wall, it could have been a very frustrating end of the race for him but he held on. Speed, who had the power advantage, simply couldn't pass him and had to make do with second as they crossed the line. Abt followed five seconds behind, his short on power car just about making it to the end. Jerome D'Ambrosio (Dragon Racing) had a solid race and brought it home for fourth followed by Nelson Piquet Jr. (China Racing) in fifth and Antonio Felix de Costa in sixth.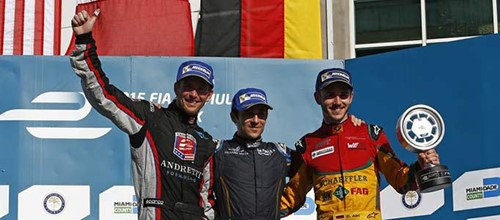 Vergne's day didn't get any better and he eventually didn't even make it to the end of the race. Such a shame as he had a promising start, although that is what makes Formula E exciting, it can (and often does) all change in the final laps.
If you missed the race check out the highlights below!
That's all from Motorsport Plus today! Remember to check back regularly for all the best motor sport content!
 Is Formula One losing it's appeal? James talks about the problems F1 is facing right now.
The best long reads from the Australian GP
New to Formula E and have no idea what we are talking about? No worries, we've got you. Check out our Beginners Guide To Formula E