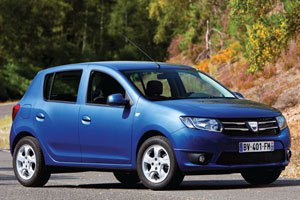 The Sandero is a five-door, five-seater car with a remarkably low starting price, from just £5,995. For that you get a base level trim and a 1.2 litre petrol engine that does 48 mpg. At the top of the range is a higher-spec 1.5-litre diesel with 74 mpg average economy. By mid-summer there will be a more rugged, beefed-up version of the Sandero joining the range, called the Stepway, and priced from £7,995.
Also in showrooms from January is the Dacia Duster, a tough-styled sports utility model in both front-wheel-drive and 4×4 versions. Priced from £8995 to £14,995, it comes in both 1.5 litre diesel and 1.6 petrol versions. It may be a budget dust-buster, but it is surprisingly civilised to drive.
Renault has its own significant launch early in 2013 with the new Clio, on the road from February. Then in the spring it will add the Zoe electric car to the range, a neat little city car that you plug into the mains for your commuter trips.
Volkswagen's big story of the New Year is the arrival of the new generation Golf, a car so good to drive that it has already been dubbed by one magazine as "all the car you'll ever need". I've driven it, and it's a honey. VW's other big news is the arrival next spring of the Beetle Cabriolet, one of several open-roof models that are on the way in what could well be remembered as the year of the soft-top.
Others that will indulge the passion of open-air-enthusiast drivers are Vauxhall's Cascada coming in March, Citroen's new DS3 Cabrio due in early spring, Audi's A3 Cabriolet coming later in the year, and new convertible versions of BMW's 1-Series and 3-Series models, due before the year is out. Peugeot also has two drop-tops coming in 2013, the 208 CC and 308 CC.
Britain's best-selling car, the Ford Fiesta, has undergone a revamp and will be showing a fresh face from January. Another significant event for Ford is the arrival of a new Kuga to start the year, but the big news is a new generation Mondeo due next autumn. Mazda kicks off 2013 with the launch of the new Mazda6, a Japanese-built Mondeo rival.