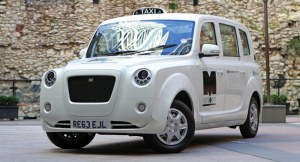 Image sourced from http://www.carscoops.com/2014/01/frazer-nash-range-extended-electric.html
There are car firms already working on all-new, economic black cabs, and five of these showcased at the city hall in an event attended by Boris himself recently. One that generated significant interest was the British built Frazer-Nash Metrocab Range Extender. It uses two 50kW electric motors and a 12.2kW electric battery, as well as a generator powered by a 1.0 litre petrol engine. The manufacturers claim it has a range of 348 miles, emitting less than 50g/km of CO2 whilst returning 75mpg. The styling is distinct from the traditional black cab, but certainly captures the essence of the styling. It is just one of many potential cars that could become the new icons of the city.
There are those who are sceptical of Boris Johnson's ambitions though – Green party representatives say that the mayor has so far failed to hit targets leading up to his promise that London will have 25,000 electric charge points by 2013. Nevertheless, the mayor persists, even if the rate is slower than expected, and has suggested that a number of charge points will be made available solely for the use of taxis, in order to reduce their time off the road.
Though Boris Johnson has in the past said that he would step down from the position of Mayor at the end of his second term, it is clear that he hopes the measures he is putting into place now will be embraced by his successor. Other than the need for zero emission taxis, the mayor is also championing a switch from traditional diesel buses to electric, as well as introducing separate bicycle lanes to encourage commuters to cycle and improve safety for those who do.
One thing is clear – our cities are going green, and our cars will have to follow suit. Does this mean the end of supercars in the city centre, and the advent of the likes of the Toyota Prius and the Nissan Leaf? The answer is, probably not, thanks to pioneering cars like the McLaren P1, which combines the best of electric and petrol technology in a revolutionary hypercar. Almost certainly though, the city of the future will be a far quieter place.