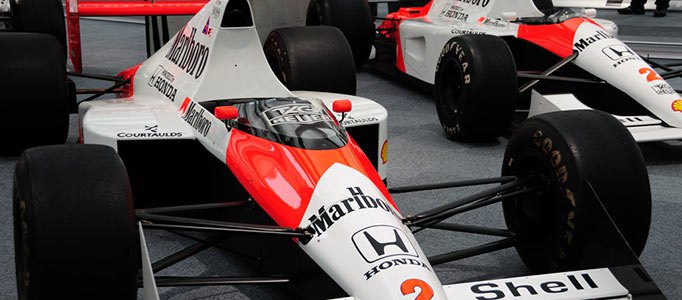 The iconic Malboro sponsored Mclaren-Honda.
There are fewer teams on the grid, less people in the stands and less action in Formula One right now than ever before and it's because of the constant tightening of rules and regulations imposed by the FIA and Mr Ecclestone. Up until a couple of days ago the FIA had planned to seriously handicap Honda in their very first returning season. Madness.
The situation is a bit complicated and would take a long time to write out so I'm going to attempt to simplify and condense it down so it's easier for you guys to read but ultimately it's less for me to write. Here we go:
Usually teams have to have submitted a final engine design for the season before the season begins, which makes sense because then everyone know where they stand. Ferrari noticed that there was not due date set for engine submission for the 2015 season and brought this up with FIA. The FIA then decided it would actually 'unfreeze' engine development throughout the 2015 season, meaning all teams would be able to continue developing and making changes to their engine throughout the season (which if you ask me makes it a whole lot more interesting). The changes are only allowed to certain aspects of the engine and teams are allowed only a certain number of changes measured with 'tokens' but that is a whole different story and not that important right now.
Guess who would be the only people not allowed to make changes during the 2015 season under current ruling? Yep, Honda. A new engine supplier enters the sport and is then immediately handicapped to the point where there would be no chance they could ever compete with Mercedes on their first season back. That doesn't sound like something that would make Honda want to stick around does it? In a time where F1 needs innovation more than ever they would be scaring off the first new entrant in a while.
Luckily recent developments may mean that the FIA could open up the field and allow Honda to develop their engine throughout the season just like everyone else. This is not confirmed however and it is based upon the fact that a high ranking member of motor sport community has spoken out and said that Honda would be well within their rights to lodge a formal complaint to have the rule reversed. We will hopefully find out soon and I will make sure to update everyone when news arrives.