Not Just The USA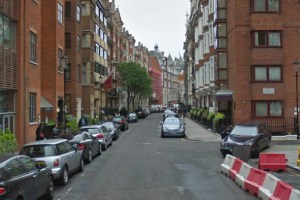 Basil Street in London, where a parking space was sold for £200,000 in 2011.
Not to be outdone by our American cousins, the UK and specifically London takes some beating when it comes to the price of parking. Research conducted by Colliers International in 2011 revealed that London had the most expensive monthly parking charges of 156 urban areas around the world which were 20% higher than the second most expensive city – Zurich in Switzerland.
Colliers found that the average monthly cost of London parking was around £670, with Zurich second at £510 and the likes of Hong Kong, Rome and Tokyo all coming in around the £460 mark. New York, at an average of £335, had monthly car parking rates nearly half that of London.
While not quite in the million dollar category, a parking space thought to be Europe's most expensive was sold in London in 2011 for £200,000. On top of that fee for the underground space in Basil Street in Knightsbridge, an annual service charge of £710 applies. There is one upside though. Over the 90 years of the lease, the space costs just 33p an hour, making it 90% cheaper than the normal parking rate in the area… bargain!
Parking charges in London are pretty staggering and that's not only when it comes to buying your own space. Car parks in the capital come at a premium also, such as the NCP Pavilion Road Multi storey car park on Pavilion Road in Knightsbridge that has 300 spaces priced at £48 for four hours parking. A 2.5% surcharge also applies if you pay for your parking on your credit card.