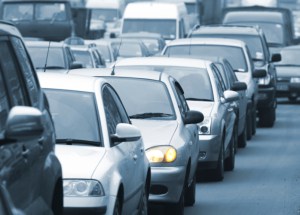 Football fans love to drive but the traffic isn't much fun!
"Fans go to enormous lengths to see their teams play but clubs sometimes forget that matchday doesn't start when they go through the turnstile," commented Malcolm Clarke, Chair of the Football Supporters' Federation. "The survey results and ideas for improvements shown in this report come largely from the fans themselves, and show that there is a large appetite for having more options for how to get to games, home and away."
It remains to be seen what provisions clubs will put in place for supporters traveling to their grounds by car next season on the basis of reading the Campaign for Better Transport's survey results. One thing is for sure though, millions of fans will be driving the length and breadth of the country to see their team play.
Another recent study, this time by AA Route Planner, explored the miles that Barclays Premier League fans clocked up following their club throughout the 2012-13 season. Spare a thought for Newcastle United fans, who if they drove to each one of the other 19 grounds in the division would have traveled an incredible 4,300 miles during the course of the campaign. North East rivals Sunderland meanwhile would have traveled just eight miles fewer to attend all of their league away games.
Fans in the Midlands were most ideally placed for getting to away games with supporters of Aston Villa traveling nearly half the distance covered by those of Newcastle getting to away games last campaign. They had to travel just 2,209 miles to make all their away games, while nearby West Bromwich Albion traveled 2,263 miles. Stoke City had the third least distance to travel throughout the season, while supporters of clubs in London traveled between 2,449 and 2,630 miles during the course of 2012-13.