How It Works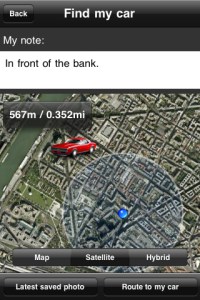 When a user of Find My Car parks their vehicle, they can press a button on the app which uses the GPS abilities to mark the location on a map. They can then leave the car in confidence that they'll be able to find it again when they return.
"To find your car again, you open the application and locate your last car position on the map. The distance to your car is displayed in real time as you walk down the street. The app is using Apple Maps, so it is very easy to visualize and locate the car."
Not only does the app use the built-in mapping features on the phone, giving you the best route back to the car, you can also use an augmented-reality view (an in-app purchase). This mode will open your phone's camera and show you on-screen directions of your car with a clear image of a red muscle-car in the direction of your own runabout.
When asked how the app has performed, Mr Morcos responded, "[The] Find My Car app has been released a few years ago, it was one of the first apps of its kind. The app has over 1 million downloads!"
A quick look at the app's iTunes page will reveal it's been featured in the Sunday Telegraph and the Wall Street Journal, hailed as one of the "Top 10 Apps That Will Change Your Life."
For more information on Find My Car, click on the iTunes button below, or here for Presselite's website.