Ecto 1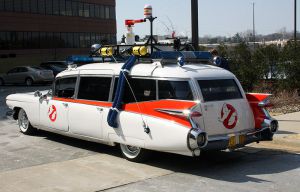 Car: 1959 Cadillac Miller-Meteor Ambulance Limo, Film/TV Series: Ghostbusters I & II
The recent £70,000, two and a half year restoration of the original 'Ecto 1' car from Ghostbusters has fuelled rumours that a third edition of the film series is soon to be produced.
Ecto 1, a 1959 Cadillac Miller-Meteor Ambulance Limo, was one of the stars of the original Ghostbusters films with its wailing sirens and deep-pitched exhaust. The car was the creation of Steven Dane, credited at the end of the first film as 'Hardware Consultant', and featured a special pull-out rack in the rear of the vehicle for containing the Ghostbusters' proton packs.
In the first film, the vehicle is purchased by Ray Stantz (played by Dan Aykroyd) for $4800 dollars. It is in a poor condition needing "suspension work and shocks, brakes, brake pads, lining, steering box, transmission, rear end… new rings, mufflers, a little wiring…."

In real life, Ecto 1 found itself in a similar state of disrepair until Hollywood-based garage Cinema Vehicle Services restored the car to its former glory to celebrate the film series' 25th anniversary in 2009.
Currently the car is available for hire in the UK – Check it out here!
Drivability – With excellent rear space, this vehicle could suit the needs of tradespersons of the ghostbusting variety or otherwise. Ecto 1 demonstrated its difficulties in cornering effectively in the Ghostbusters films, so take corners at low speed.