Software Apps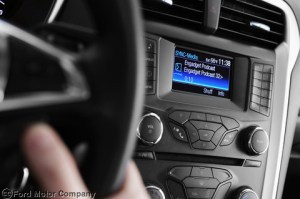 Apps, the buzz word of the tech world since 2010 has finally made its way into motor vehicles. Most people instantly think of smartphones when they think of apps, and many vehicles will use smartphones to power their apps, but manufacturers have also decided that these apps need to be more integrated into their vehicles.
Manufacturers such as Ford and GM have laid out plans for their cars to fully integrate apps that will be carried and powered by smartphones, but displayed through in car screens. Products like the Ford SYNC Applink will allow developers to have their apps sat in the prime position for the drivers and passengers.
Allowing developers to create software that will be used directly by people when driving should help to increase innovation. While the car companies will have ultimate control over which apps can be used on these systems (sorry, not many games will be approved to run over the system!), providing a new platform for the apps to be delivered through will create a whole new environment for motoring apps.
So what can we expect to see? So far Ford have announced Glympse which will use the Ford SYNC tool to allow the user to share their location simply by voice command. The future is likely to see apps that allow people to set a meeting point and let the sat nav guide you there, find local entertainment (think the nearest cinema with full screen listing times), update you on the latest sport scores or give you up-to-the-minute news and weather. The apps will simply be limited by the innovation of the developer and strict safety requirements set by the manufacturer.
If you want to read more about this Liz Gannes has written a great article here.
Industry Expert Opinion – www.mp3car.com – Stephen Jensen

For some time at mp3Car, we've been searching for a way to get developers to collaborate and create apps suited to in-vehcile infotainment. The limiting factor always seemed to be hardware. How do we get something that will work well on a Honda, Land Rover, BMW, Lexus, etc all at the same time? Each manufacturer has their own engineering team and their own standards. This common platform is really what has been required to get a large enough user base for app development to flourish… until the revelation of the modern-day smartphone that is.

Initially, phones were meant simply for communicating verbally with others. Now it seems we can accomplish 80% of our full-blown desktop tasks on a smartphone. Born is the common hardware platform for the car. Now it seems it's just up to the car manufacturers how much of this functionality they will make available through OEM entertainment systems. Or consumers can go to aftermarket solutions for integrating smartphones into their driving experience. Or consumers can simply just use their smartphone (hopefully safely) in the vehicle without integration with the vehicle. Mobile hotspot, infotainment system, software apps, voice recognition, music, video, all in that hot little device in your pocket.