"When we do right, nobody remembers. When we do wrong, nobody forgets."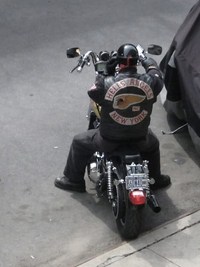 The exact origins of the Hells Angels Motorcycle Club is a closely guarded secret, although it is believed that it spawned from the same post war roots as most biker gangs.
The name "Hells Angels" is most likely to have come from the popular nickname given to bomber squadrons during World War Two, such as the Flying Tigers bomber squadron that were based in China.
Although the official website denies that the founder members were military, they do acknowledge the influence of one man in receiving their iconic name – Arvid Olsen, a serving member of the Flying Tigers.
Deemed to be an organized crime syndicate by the US Department of Justice, Hells Angels bikers deny that they are involved in any criminal activity. On the Hells Angel website, a list of currently incarcerated members is posted, alongside a list of all the past members who have died.
The most notorious incident in the Hells Angels long and chequered history was the Altamont Free Concert in 1969. Headlined by the Rolling Stones, the Hells Angels were hired by the band to provide security for the event.
The crowd that day was rowdy, with later reports stating that the Hells Angels were unprepared for just how chaotic it could become. During the headline set, a man named Meredith Hunter was stabbed to death by one of the bikers, Alan Passaro.
During the murder trial, it was revealed that Hunter had become agitated by the gangs rough approach to security, and had approached the members with a handgun. Passaro was acquitted of murder on the grounds of self-defence.
Despite the acquittal, the legend of the Hells Angels grew more notorious. The Hells Angels have grown into a worldwide organisation, with chapters in many countries across the planet. The United Kingdom has played host to some notorious incidents involving the gang.
In 1988, two members of the Outlaws were murdered by a Hells Angel member. August 2007, a Hells Angel member was riding back from a motorcycle rally when he was shot dead on the M40 motorway by two members of the Outlaws.
And in January 2008, 30 members of the Hells Angels and Outlaws had a massive brawl at the Birmingham International airport.