How To Survive A Run In The Indy 500 – On Jalopnik. Read it Here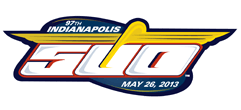 Oh man, I really need to stop mentioning Jalopnik, but to be honest, they're the best car site out there and consistently supply the best writing about cars, car culture and everything that goes along with such topics. Alex Lloyd is a race driver originally from the UK and now based in Indianapolis, and in this stunningly interesting piece, describes what it's like behnd the wheel of an Indycar in the world-renowned Indy 500…
A savage-like demeanor may actually be a hindrance in a race like the 500, as patience is imperative. On a road course, you can allow a little more viciousness to seep into your veins, but this is not a road course. This is Indianapolis, one of the most challenging and dangerous racetracks in the world.
Lloyd speaks from experience, and it shows. The feel of the road, the turbulence, the 5 million things you have to remember to do, the car in front of you, the car behind you… All whilst being instructed by your team engineers directly into your ear to keep trying to save fuel. Get that MPG up a little more…
… Strategy becomes the focus. Primarily, saving fuel. Saving fuel is tough because you mustn't lose pace with the guys in front. Lapping in sixth gear instead of fifth will save a valuable fraction of an MPG (average MPG per lap is around 3.00), as will lifting early towards the end of the straights. Of course, when doing this, you are opening yourself up to an attack from behind, but the engineers will be screaming at you to continue saving fuel.