The Broker Model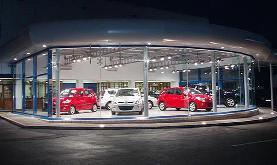 Traditional dealerships could see increasing competition from online stores such as those run by Tesla
Online car brokers like Creditplus already deal very successfully and efficiently with their customers online. Indeed CreditPlus are able to verify a finance deal with a customer quickly. The car that they have viewed on screen can be sold and delivered to customers before they've even seen it. The soaring success of CreditPlus demonstrates that today's motoring customers are very happy with this quick and convenient method of doing business.
In fact the motor trade is lagging behind the rest of the retail world in this respect. Many fields of business are now conducted mostly online.
In certain industries, like entertainment, leading retailers already collect over 50 per cent of revenues on-line. This change forced the shut down of brick and mortar stores like Borders in the US and bought financial trouble to the UK's HMV chain. Could this also happen to UK car dealerships in the future?
In Britain all car manufacturers already have websites that were initially just online brochures aiming to drive more visitors into showrooms. These sites are now becoming much more central to their marketing strategy.
For example, Ford UK sells new cars through its website (http://www.fordretailonline.co.uk/) and similarly the budget newcomer Dacia (http://www.dacia.co.uk/) has entered the UK market primarily pushing its online sales channels with dealerships for back up. An upcoming website (http://shopclickdrive.com/) is General Motors' new initiative to sell cars on-line.