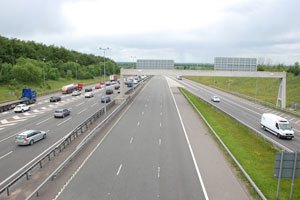 Currently, this is a hot topic where I live. If any of you are familiar with the joy that is the A14 between Cambridge and Huntingdon, you will know what I'm talking about. It's been dreadful for years and is getting worse. There's simply too much traffic for dual carriageway, particularly as it's the only route into East Anglia from the Midlands and takes all the lorries to and from the ferry ports on the Suffolk/Essex coast.
A £1.5 billion scheme to upgrade it has been in the pipeline for years and one of the current proposals to help pay for it is a tolled section. I say bring it on! I will happily stick my hand in my pocket – and the suggestion is only £1 for cars – if it speeds up my journey.
People will say we fork out billions in taxes already, so why should we be liable for more? It's a fair point. But in the current financial climate we have to accept that education and health are going to take priority over building new roads. So if we want to make the A14 better we're going to have to help fund it.
I don't see the problem with that. We wanted central London to be less choked up with vehicles and their emissions, and now we've got it. If you need to drive in there, you can. We wanted less traffic on the M6 through Birmingham and now there is. If you don't fancy getting stuck, take the M6 Toll. The difference with both these schemes is you have to pay a few quid for the privilege – where's the harm in that?