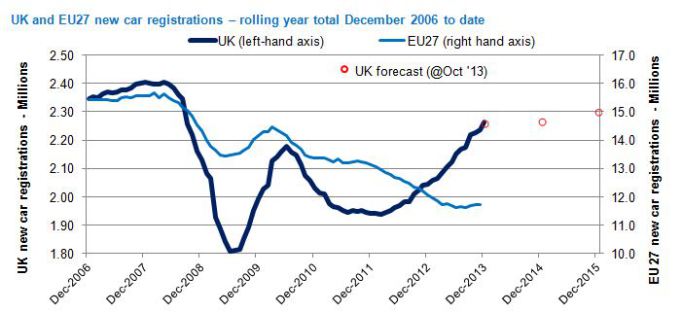 Graph Courtesy of the SMMT
So what is the reasoning behind the rise? Well, on a large scale, the steady recovery of the economy following the recession has seen increased spending and more lending options becoming available once again, with the financial markets beginning to return to a pre-recession state.
This is not to say lessons haven't been learnt in the wake of the recession – lenders are doing far more comprehensive checks and risk assessments on potential customers before lending, and whilst those with a poor credit ratings can obtain finance, they should expect to pay higher rates and meet certain requirements that help to lower the risk of lending to them.
On a personal level, individuals have seen their personal budgets widen, and, crucially, are able to obtain highly competitive car finance deals, such as PCP (personal contract purchase) which allows customers to obtain a new or nearly new car for a low monthly cost. This means that customers who would previously not have been able to afford a new car are now able to, thus bolstering new car sales in the UK. With over 75% of new car sales in 2013 involving a finance package, the influence of the changing car finance market on car sales is obvious.
As well as this, up-to-date economic data suggests growing confidence from consumers, whilst some analysts have suggested that refunds from mis-sold PPI policies have increased sales, with the average payout being around £3000 – more than enough for a deposit on a new car.
Here at Creditplus we've also seen growth this year, reporting record sales in 2013. Compared to 2007, we've seen a 66% increase in sales, and expect that we will continue to see positive growth in 2014. Of course, these figures refer not solely to new cars, but to all car finance deals that we have supplied.
We supply a range of car finance options – why not take a look around the Creditplus website to find out why 9 out of 10 of our customers would recommend us to a friend.