"Tito"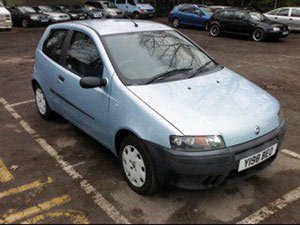 "We should give your car a name?" my girlfriend said one evening, "It's your first car, and it needs a name."
"Nah, names are stupid. It's just a machine, a tool for me to use."
"What about Tito?"
Poor, poor Tito. My first car, a Y plate Fiat Punto finished in a light not quite baby blue. The ultimate first car. Second hand? Check. Cheap? Check. Bought because its the only one you can afford? Double check.
Tito wasn't the best car. You had to slam your foot on the brakes every time. Changing gear required you to wrestle with between gears. Steering was light until you tried to turn more than ten degrees. But it oozed personality. Every little dent and scratch gave the car character. It wasn't perfect, it wasn't that fun to drive, but it was trying its best. The Getz is boring in its simplicity. Tito was different. I didn't believe in the special bond with people have with their first car until I had my first car.
And then Tito died.
"Poor Tito. Why couldn't you tell me what was wrong? Before I drove you to destruction."
Despite working at a car auction, mechanically I was naive when it came to cars. So when the radiator broke, I didn't realise until it was too late. How is this possible, you may be asking. Well, Fiat Puntos (at least the 2001 model) don't have a temperature gauge. I knew something was wrong. But Tito kept going, he didn't collapse. Until it was too late. It was a busy weekend and I was making a short film, driving actors and crew back and forth. I kept telling Tito that I'll take you to work on Monday and get one of the mechanics to have a look. Tito held on as long as he could, until midnight on the last day of filming, just as I was back at home.
Bang.
Tito finally died. I had blown the head gasket and cracked the cylinder heads. The best mechanics at the auction house tried to fix him but it was no use. Tito was gone, off to the scrapheap. I had murdered the first car I ever had.