Creditplus is a leading fintech, founded in 2004, offering car finance to UK consumers
Cars can now be viewed online in a simulated real-world environment using your phone
AR rose to fame with Pokémon Go in 2016 and has seen major investments across sectors
Creditplus is trialling the use of Apple's AR 'Quick Look' feature, enabling mobile users to view 3D and true-to-scale car models in their driveway or parking space. Car buyers can simply select a car, read about its key features, and view in 3D, before continuing their finance journey.
Recently AR has continued to grow as a nascent technology and has found uses in gaming, education and e-commerce. Most consumers will be able to easily access AR through Safari, Messages and brands with compatible apps without the need for specific applications or knowledge of the technology.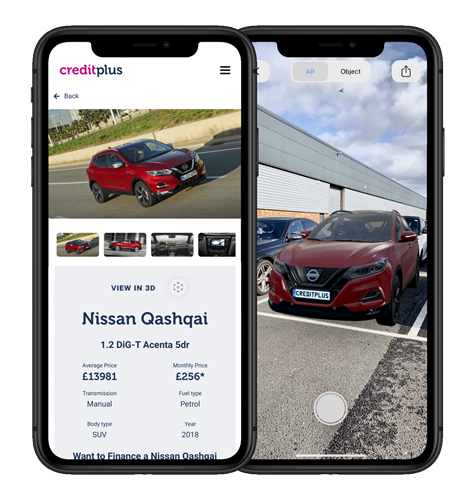 By giving buyers the ability to compare and interact with cars, Creditplus hopes that customers will be more satisfied with their choice of car. After viewing the 3D model, customers can view personalised finance offers for their chosen car, which is sourced by the in-house team, before being RAC-inspected, valeted and delivered to their door.
To try the experience visit Creditplus' Best Car Deals.
--- ENDS ---