3) Length of Journey – 13%
I can personally attest to this one irritating me and it doesn't matter whether you're driving or a passenger, it's horrible either way. Short journeys are fine, you are having a pleasant enough time driving your car and checking out the surroundings, it's the long journeys that are really bad. I think part of the problem is the roads, motorways are boring, they just are, it's the same grey blur with a green border for mile upon mile. There is rarely anything nice to look at so you start getting irritable because you are bored, this leads to fidgeting and not being able to get comfortable, compounding the problem.
The passenger is in the same boat, getting restless and tetchy. In a situation like this you don't even need a reason to kick off, it could have been something that happened a week ago that tips everyone over the edge and off we go.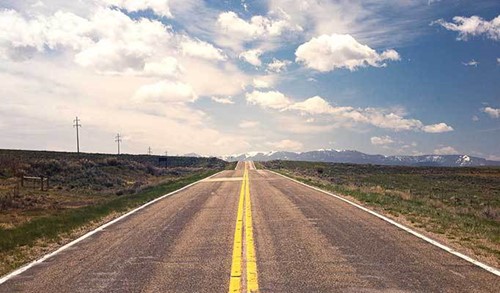 We're nearly there, just over those mountains.
While there is little than anyone can do to shorten the length of the journey, there are some things that will make it more bearable. How comfortable the car is will likely put off this problem for a while at least, it's much nicer doing a long journey is a car with nice seats and softer suspension than it is to do one in your friends lowered Seat Ibiza that has so much tyre roar it sounds like a 747 is taking off inside the car. You know who you are.
A nice sound and infotainment system is certainly going to improve this situation, giving the passenger something to do and providing something to break up the mind numbing monotony of the motor way for the driver. There is one thing that used to keep me from going insane on a long drive and that was an audiobook. Trust me, having an engaging story to listen to while you are on the road not only makes a long journey bearable but I've actually found myself sitting in the car for a few minutes after I've arrived to find out what happens next!