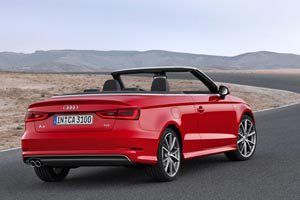 Audi have always been generous with their engine options, and provide something for everybody. The European model will continue that trend with 2 different TSI petrol engines (138hp 1.4-litre, 178hp 1.8-litre) and a turbo diesel with 148hp from a 2.0 litre engine.
Of course, there will also be a swanky S3 model to sit at the top of the range, sporting a 296hp 2.0-litre petrol engine.
No convertible is complete without a nice soft top and the new A3's lightweight roof is capable of opening or closing in less than 18 seconds whilst moving up to 30mph, but we all know Audi love to stuff their cars full of technology, and the A3 Cabriolet most definitely doesn't disappoint, with options for a Bang & Olufsen sound package, MMI Navigation and plenty more.
They've also released somewhat hilarious promo video which you can find below. I think Audi really need to rethink the music they use in videos…
So, what do you think? An improvement on an already successful formula? Share your thoughts in the comments and on our Facebook page.