Fiat Panda 4×4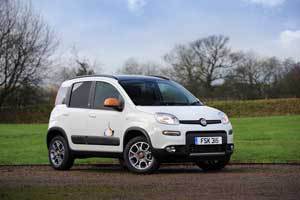 With over 6.5 million sales since it first arrived in the Country in 1983 – the Fist Panda 4×4 has proven to be a real success with its customers. I know what you are all thinking.
Fitting a 4×4 engine into a compact supermini car isn't the smartest idea that Fiat have ever come up with but you shouldn't be put off as this car is a right little gem.
For just £11,145 the Fist Panda comes with an impressive four wheel-drive transmission, special 15" inch alloy wheels and specialist mud and snow tyres for all weather conditions. It has a decent sized 225 litre boot, offering plenty of storage room and the practically to be used as a family car.
Up against its rival the Dacia Duster, the Fiat scores better when it comes to safety, the Dacia only scored a measly 3 out 5 stars whereas the Fiat Panda scored a respectable 4 out of 5 which makes it's a more attractive choice, for those who have safety as a priority.
Thanks to its small size and lightweight body it means its pretty fuel efficient too with the petrol twin air engine returning 57.6 mpg whilst the diesel multijet manages 60.1 mpg.
4 by 4s are becoming more popular by the day in the UK, so much in fact that there is now an extensive range of models available – nearly every manufacturer has a 4×4 in their product range. With technology advancing it has meant that more efficient engines can be produced which has led to an increase in demand in 4x4s as they are not deemed so expensive to run.
Off-roading used to be the main reason for someone owning an SUV, however these days they are more often used as lifestyle vehicles. Whatever your circumstances make sure you choose the right vehicle for you and with the excellent range available the choice couldn't be easier.
If looking at this list of 4×4's has got you in the mood to change your car, then we can help! Apply for car finance today and we can help you to find the perfect SUV to suit your circumstances.