Mercedes Benz SLK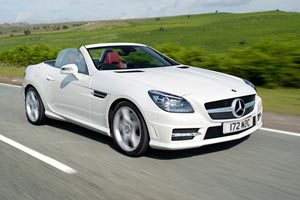 The SLK is a very popular car in general, not just in the roadster category. Practically dripping with style inside and out and it is fantastic to look at. Due to the quality of the inside cabin the SLK is a roadster that you could use everyday and you would definitely turn a few heads on your way to the shops. The entry level model comes equipped with a 181bhp engine to get you going, so it certainly does not skimp on outright power and it will do 0-60 in 7.3 seconds with a top speed of 149mph! The wonderfully engineered metal folding roof will give you extra security and also makes this little Mercedes an all weather roadster. This combined with the punchy engine and improved agility means it is capable of handling most situations whether it's just driving through town or steep mountain roads.  So while it may not be the fastest of the group it will certainly get you where you need to be and you will be looking good whilst doing it too.
Search for a new Mercedes-Benz SLK here
It really is a tough decision to choose who wins this one. The z4 is a great all rounder, the MX-5 is great value for money, the Boxster excels in all situations but is expensive as a result and the SLK looks amazing and has the power to match. We can't decide so it is up to you to pick your own winner!
If you enjoyed reading this why not check out some more of our car battles like our hot hatch battle or battle of the small coupés!