5. Dan Neil on Ford's Wonderful Fiesta ST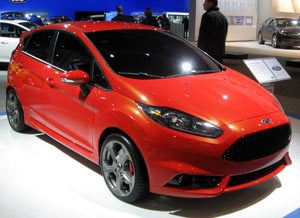 Dan Neil, writer for the Wall Street Journal and friend of Elon Musk (founder of Tesla Motors) is known for his quirky car reviews. In this particular feature on the WSJ's website, Dan Neil quickly summarises a full length article, in which he praises the Ford Fiesta ST.
The Ford Fiesta is already one of the world's best selling cars, and here in the UK topped the best seller tables. Neil's recommendation is to opt for the sportier, faster, though slightly more expensive ST version, on the grounds of 'shelf-life.'
His argument is that, whilst the standard Ford Fiesta is a great car, the ST model is even more exciting, and will hold the owners attention for a much longer time – not only are you getting a better, more exciting ride, but you're less likely to want change your car within a few months. It makes sense to anyone who finds the hassle of selling and buying cars more trouble than it's worth.
The best part of this review has to be that Dan Neil is a highly talented reviewer who is not yet reviewing high powered dream cars exclusively, in the way that many of the top motoring journalists do. Unlike Jeremy Clarkson and Chris Harris, who are arguably of the same calibre, Neil offers us a car that is affordable on the average salary, without sub-consciously comparing it too high powered cars – it is a refreshingly realistic review that takes a different angle to the norm, and that is why he makes this list.
Follow Dan Neil on twitter – @Danneilwsj
So if reading these reviews has piqued your interest, now may well be the time to start looking for a new car. Though a McLaren P1 or a Porsche 918 Spyder may be out of reach, you might be surprised at what you could afford on a clever finance policy. To find out more about car finance and how it works, visit our Car Finance overview page.
Think you could do a better job at reviewing cars? Why not submit a car owner review on our website, and you could be in with a chance to win an Ipad Mini!